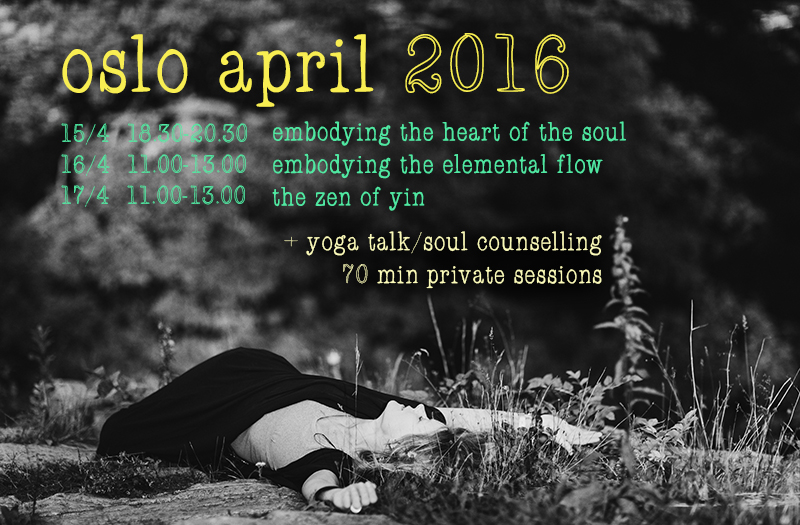 Spring & flow weekend :::
15-17 april
vårhelg med 3 st workshops i yogans djup, kraft och medicin
rensa ut :: exhale
fyll på :: inhale
samla tanken :: embodiment through guided vinyasa
kom hem :: be still
(fredag 18.30)
Embodying the Heart of the Soul
A soft, embracing, and deeply expanding evening. Half the practice is a relaxing Yin Yoga session, where we apply Chinese Medicine through resting into various poses that expand our fascia and allow the meridians to vitalize. The medicine of prana is generously dispersed throughout the body, to where its mostly needed and supporting us. The other half is a slow Prana Vinyasa Flow® practice, where we breathe and move into a divine taste of embodiment of the heart of our soul.
(lördag 11.00)
Embodying the Elemental Flow
A dynamic and invogirating workshop of Prana Vinyasa Flow® – Shiva Rea's school of yoga. Embodiment, breath, and being are our pillars as we move through an exploration of the five elements of wind, fire, earth, water, and space. Connecting deeply to our roots and our infinite vastness. Mia is a certified Prana Vinyasa Flow® teacher, trained in Los Angeles by Shiva Rea.(söndag 11.00)
The Zen of Yin
A meditative, long Yin Yoga practice seasoned with captivating mindfulness. Readings of ancient tantric scriptures, or Thich Nhat Hahn, accompany your journey deeper into the relaxation of being.  Through committed pausing in postures, we create space where we perhaps have been rigid, and unveil layers to more deeply relax into being. Being still with ourselves is certainly advanced yoga. No experience needed.
Bli med på en eller alla tre workshops! Bokning sker till osloyoga.no
With love: VÄLKOMMEN!
– Mia
ERBJUDANDE:
Personlig Soul Counselling/Deepened Embodiment 70 min privat session  
Nytt för Oslo i år är att jag erbjuder privata sessioner i Soul Counselling/Deepened Embodiment – själslig, kroppslig, känslomässig empatisk transformation.
Hur mår din kropp? Hur mår din själ i kroppen? Var i livet befinner du dig? Är din vardag fylld av det du älskar och brinner för? Står du inför en livssituation som behöver support? Längtar du efter djupare förankring i dig själv? Verktygen jag arbetar med i Soul Coaching/Deepened Embodiement är: Zen Coaching, Voice Dialogue, yoga, närvaro, lyssnande, andning, kroppsmedveten mindfulness, pressure massage.
För bokning av Soul Coaching/Deepened Embodiment: maila mia@littlewing.se
2 platser finns på kursen *MORNING EMBODIMENT tisdagar 7.30-8.30 start nu på tisdag 15 mars!
(Samt 1-2 platser på lunchyogan. Maila för förfrågan.)
Veckans skönaste uppvaknande i yinyoga och mjukaste Prana Flow vecka 11-20 
Maila mia @ littlewing.se för bokning, priser
Vårens kurser startar 15 mars! För bokning, maila mia(at)littlewing.se
YOGAKURSER VÅREN 2016 på YogaMovement, Kåkbrinken 16 Gamla Stan
::  Kurs *MORNING EMBODIMENT* tisdagar 7.30-8.30 [2 platser kvar]
Veckans skönaste uppvaknande i yinyoga och mjukaste Prana Flow 
vecka 11-20 (totalt 10 v)
Pris: 1800 kr
Drop-in möjlig i mån av plats 200 kr
::  Kurs *REBALANCING LUNCH YOGA* tisdagar 11.30-12.30 [2 platser kvar]
Djupt avstressande och uppbyggande för urban yogis.
Balans, närvaro, styrka & avslappning
vecka 11-20
Pris:  vecka 11-20 1650 kr

::  Kurs *REBALANCING LUNCH YOGA* torsdagar 11.30-12.30 [1 plats kvar]
Djupt avstressande och uppbyggande för urban yogis.
Balans, närvaro, styrka & avslappning
vecka 9-20 (dock ej Skärtorsdag & Kristi Him, totalt 14 v)
Pris: vecka 9-20 1650 kr