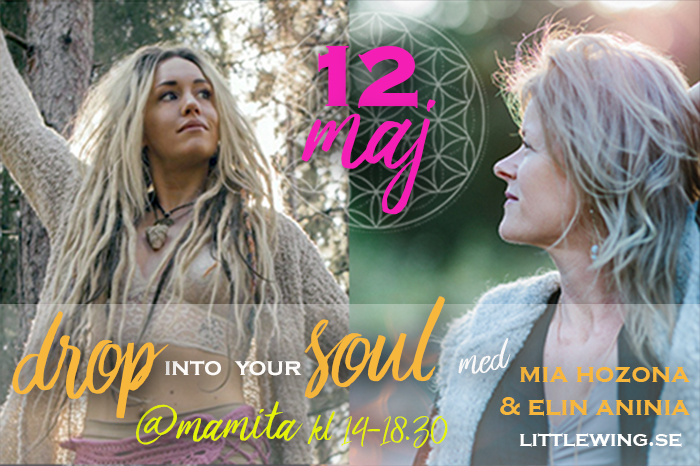 VÄLKOMMEN IGEN! ✨ 💖 👁 💖 ✨
Jag och Elin Aninia välkomnar dig till ännu en women's DROP INTO YOUR SOUL, lördag 12 maj. ✨😍
Denna gång med detta delicious innehåll:
✨Re:writing your SOUL CONTRACT
✨Embodied SOUL DANCE
✨SOUND HEALING
🐚En timmes Embodied SOUL DANCE, har du inte tidigare varit med så läs om Soul Dance på Mias hemsida www.littlewing.se

🐚En timme live Sound Healing med Elin Aninia 💖. Elin har med sig kristallskålar, tibetanska klangskålar, chimes, akustiska vindljud och vattenljud och andra överraskningar. ✨✨✨
🐚Re:writing your SOUL CONTRACT ✨✨✨Unik workshop med Soul Coach Mia Hozona där du får verktygen att formulera om dina livsval och livsvägar. Powerful method for change and manifestation!! Ta med din egen anteckningsbok och penna.
🐚Sharing, rest, sisterhood. Cirkeln är basen för hur vi möts: i systerskap, transparens, trygghet, vila och gemenskap. 💖
"This is a completely new era in human history: an era to grow our emotional and spiritual intelligence – and thru this practice Embody and re:member our Alignment with our Higher Selves, through our Souls." ~ Mia Hozona
Välkommen lördag 12 maj till @mamita för ljus för själen med Mia Tripura och Elin Aninia ✨💖🐚🐬✨
Tid 14.00-18.30
Max 18 women 🐬🐬
Pris 🏆 650 kr, inkl fika
För att boka plats:
maila bokning.miahozona@gmail.com 🙏🏻
https://www.facebook.com/events/165511757448141/
DROP INTO YOUR SOUL
Magenta Yoga, Oslo 21-22 april
Denne helgen er vi så heldig å få besøk av selveste Mia Hozona. En nydelig og kraftfull yogalærer, soulcoach og spirituell lærer fra Sverige, som har et enormt spekter å by på.
Vi samles lørdag kl.10-16 og søndag kl.10-12.30 hvor Mia vil lede oss trygt gjennom timer med bevegelse, flyt, yin, restorative, souldance, meditasjoner, deling og søsterskap.
Program for helgen:
Lørdag kl 10 – 16 – Into Your Soul
– In mot sjelen gjennom bevegelse
– Yoga – bevisst bevegelse
– Myk pranaflow yoga
– Generös yin & restorativ yoga
– Legende bevegelser. En praksis som bygger selvkontakt og intuisjon.
– Guidet soul meditation 
– Å skrive om sin sjelskontrakt (ta med papir og penn)
– Energiskole; Balancing your Divine Feminine and Divine Masculine
– Virkeligggjør dine drømmer og velg ditt JA
– SoulDance medicine
– Into The Soul satsang. Q & A.
– Sirkel, deling, søsterskap med evt øvelser
Søndag kl. 10 -12:30 – Soul Sanctuary
Tap Into Your Quiet Space fordypning.
Søndagen kommer til å krone lørdagen, få landet alt dypt og bredt. Gå ikke glipp av søndagen, hvis du kan være med.
– Vi begynner med yoga og pusteøvelser for å lande i kroppen
– Deretter sitter vi 2 x 20 (ev 30) minuter i stillhet.
– Avslutter i Sound Healing (frivillig bevegelse/dans eller stille lytting)
– Læring og deling
Priser:
Lørdag kr 1250,-
Søndag kr 450,-
Pakkepris for hele helgen kr 1500,- ANBEFALES
Påmelding:
Ønsker du å sikre deg en plass på denne transformerende helgen med Mia, send en mail til: lise@magentayoga.no, så sender jeg deg betalingsinfo. Din plass er sikret når du har betalt.
Dersom du blir forhindret fra å komme kan du gi plassen din til noen andre, men vi kan ikke refundere beløpet. Har vi venteliste, formidler vi selvsagt kontakt mellom dere.
Vi har kun 14 plasser, hvorav 8 er forhåndsbooket, så ikke vent for lenge med din påmelding – her blir det fort fult.
Ta med til lørdag:
Papir og penn, din egen lunsj til spisepausen på 30 min.
Vi byr på te og litt enkel snacks.
Hjertelig velkommen til en hjertevarm helg med oss på Magenta Yoga på Bekkestua.