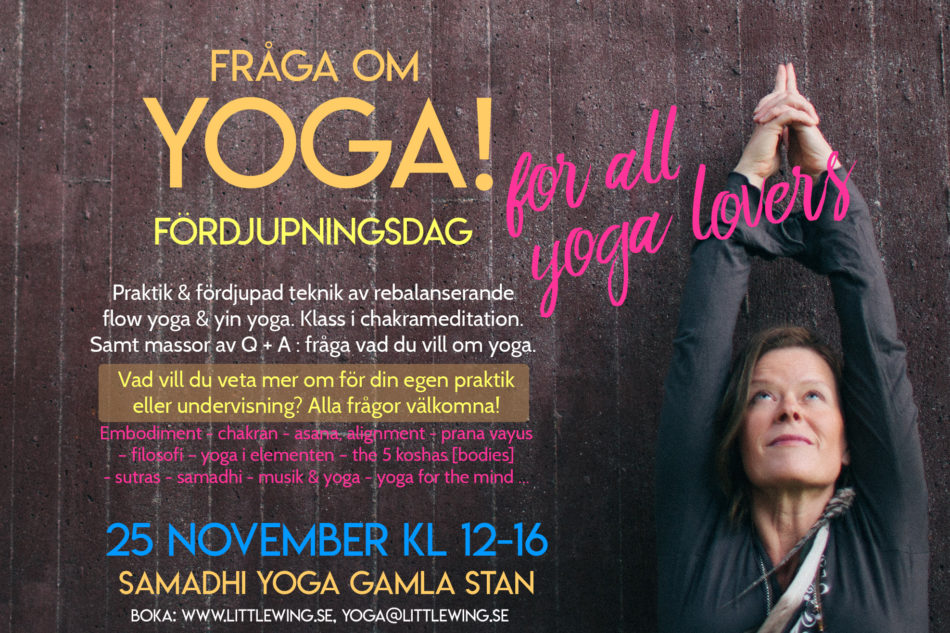 Efterfrågad workshopdag (nytt datum! 25 november) med mycket praktik & teknik av mjuk rebalanserande flowyoga och yinyoga.
Nyinsatt: Dr Joe Dispenzas bonusmeditation för radikal förnyelse av varje energicentra (chakra). Amazing stuff. Samt samtal och  Q + A : fråga och utforska allt du vill om yoga! 
Vad vill du veta mer om för din egen praktik eller undervisning? Alla frågor välkomna! Embodiment – chakran – asana, alignment – prana vayus – filosofi yoga i elementen (jord, eld, luft, vatten) - sutras – samadhi – musik – yoga for the mind
Mia har praktiserat yoga sedan 1990, utbildad i filosofi 1990-1995 i Indien, certifierad Prana Vinyasa Flow@ yogalärare utbildad av Shiva Rea i Los Angeles, lärare i Yin Yoga och Restorative Yoga, embodiment, Zen Coach, Soul Coach, och grundare av Embodied Soul Dance.
Hon har undervisat i workshops och vidareutbildning för yogalärare sedan 2010 över hela Sverige, i Norge och på Mallorca.
Denna workshop riktar sig till yogalärare och dig som älskar din yogapraktik men längtar efter att fördjupa dig i din yoga.
När: söndag 25 november kl 12-16
Var: Samadhi Yoga Gamla Stan, Kåkbrinken 16/Lilla Nygatan
Anmälan: till yoga@littlewing.se
Pris: 699 kr till BG 5122-7593 samtidigt med din anmälan. EARLY BIRD 650 kr för anmälan och betalning senast 10 november
Anmälan är bindande men du kan naturligtvis överlåta plats åt annan deltagare i händelse av sjukdom. Läkarintyg vid sjukdom ger tillbaka betalad kursavgift minus 50 kr för administration.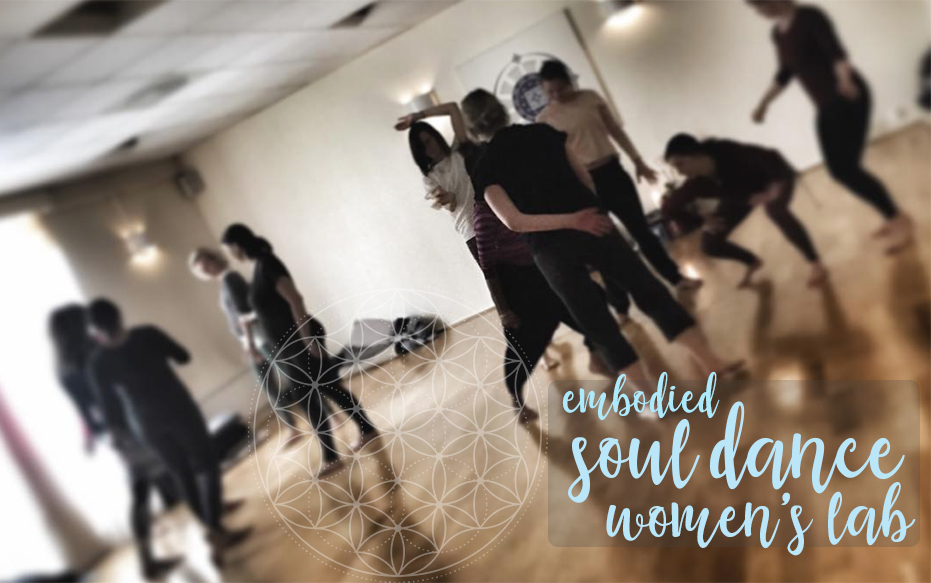 Sisterhood Embodied Soul Dance Lab varannan fredag i höst för alla som definierar sig som kvinnor, med founder Mia Hozona på Mamita Sthlm
~ ~ ~
Embodied Soul Dance, a conscious dance practice & a practice to embody consciousness.
We move in toroidal flow through deeper connections with our soul's voice. Allowing, embracing, healing and transcending the lower densities we hold in our bodies/kosha's. Compassing towards joy! and authenticity for alignment. Alignment expressed rocket fuels your embodied ascension!
Lab is joy! creativity, art, beauty, play
Lab is toroidal giving-receiving-giving-receiving
Our landscapes are:
~ Pausing [foundation of now, beginning where we are]
~ Holding space [safety, relaxation, relating, inside-out, me-myself-you-us]
~ Aligning [inventory, through constantly returning back to the base of pause and space holding ~ feeling the koshas]
~ Ascending [beauty, bliss, transformation, speed of light/consciousness]
~ Prayer [meditation, gratitude, beauty, metta]
Our foundations are:
Pause, authenticity, community, relaxation, joy!
Mia Hozona has presented EMBODIED SOUL DANCE in Stockholm since 2012, as well as Oslo Yogafestival, Stockholm Yoga & Dance Festival, Ängsbacka New Years Festival + Easter Festival + Yoga Festival; Zorba Healing Arts Festival, India; Dancegatherings; Borntorpet Shambala Gatherings; Culver City Masonic Lodge, Los Angeles.
PLATS:
Mamita Sthlm, Vikingagatan 29
kl 18.00-19.45
31 augusti
14 sept
uppehåll 28 sept
12 okt HEART CEREMONY
26 okt
9 nov
Inställd: 23 nov
7 dec
Pris 250 kr
Självklart alkohol- och drogfritt
Dans sker barfota
Parfym och stark deo undanbedes