SoulDance : Soul Contract : Sound Healing women's day 12/5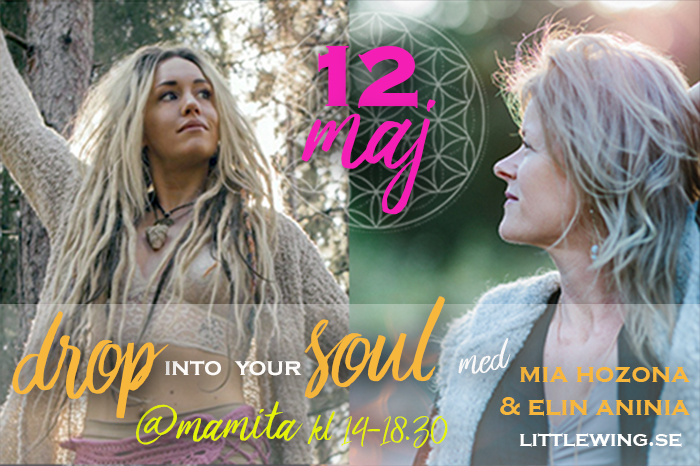 VÄLKOMMEN IGEN! ✨ 💖 👁 💖 ✨
Jag och Elin Aninia välkomnar dig till ännu en women's DROP INTO YOUR SOUL, lördag 12 maj. ✨😍
Denna gång med detta delicious innehåll:
✨Re:writing your SOUL CONTRACT
✨Embodied SOUL DANCE
✨SOUND HEALING
🐚En timmes Embodied SOUL DANCE, har du inte tidigare varit med så läs om Soul Dance på Mias hemsida www.littlewing.se

🐚En timme live Sound Healing med Elin Aninia 💖. Elin har med sig kristallskålar, tibetanska klangskålar, chimes, akustiska vindljud och vattenljud och andra överraskningar. ✨✨✨
🐚Re:writing your SOUL CONTRACT ✨✨✨Unik workshop med Soul Coach Mia Hozona där du får verktygen att formulera om dina livsval och livsvägar. Powerful method for change and manifestation!! Ta med din egen anteckningsbok och penna.
🐚Sharing, rest, sisterhood. Cirkeln är basen för hur vi möts: i systerskap, transparens, trygghet, vila och gemenskap. 💖
"This is a completely new era in human history: an era to grow our emotional and spiritual intelligence – and thru this practice Embody and re:member our Alignment with our Higher Selves, through our Souls." ~ Mia Hozona
Välkommen lördag 12 maj till @mamita för ljus för själen med Mia Tripura och Elin Aninia ✨💖🐚🐬✨
Tid 14.00-18.30
Max 18 women 🐬🐬
Pris 🏆 650 kr, inkl fika
För att boka plats:
maila bokning.miahozona@gmail.com 🙏🏻
https://www.facebook.com/events/165511757448141/
No comments yet.