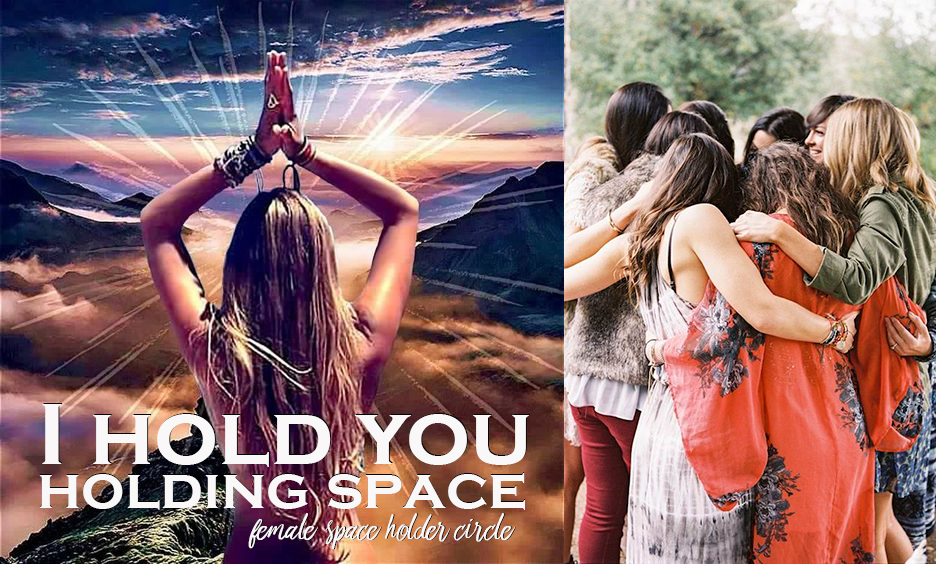 ÄR DU OCKSÅ EN SPACE HOLDER och känner kallet att bli hållen i detta, SAMT att djupna dina skills i att effortlessly, authentically, powerfully and consciously hålla space?
💞🙌🏻👩🏻🙌🏻💞 HOLDING SPACE INVITATION ::
Dear beloved community,
I work on myself, so I can show up for my students and clients. I have so many clients coming to me with their deepest fears, vulnerabilities, insecurities and longings – so I need to know mine. I show up for this. I release my wounds and lower frequencies, allow for them to transform into higher densities. I reprogram my DNA.
I've worked on myself every day for the past 28 years, so that I can show up and hold space for people, so they can learn to hold embodied space for themselves – whether in yoga, Soul Coaching, therapy, or conscious dance.
I've spend since 1989 trying to understand more and more how to hold space for myself and for others. My achilles heal has always been finding it hard to find people holding space for ME when I hold space for myself. Intimate community support, simply. Very often and for many years I've done it alone. It was a lonely business.
Everyone should have people holding space for them when they hold space for themselves. And to hold them. 🐼🐻🐨 Today we have each other. We are SO MANY: teachers, therapists, healers, coaches. This is an invitation to come together for the sake of:
– being transparent (4D) and share
– being seen and held
– learn and deepen our tools of holding space more effortlessly, authentically, powerfully and consciously
– scheduled cuddling (the medicinal effects of hugging is redicuolus!) :)
– the bonus effect of raising your vibration in consciousness together (4D-5D) (which happens to tap straight into my Soul Mission ;) )
So. Learning (the hard way) that I need to EQUALLY TO WHAT I GIVE TO OTHERS re-charge myself as a space holder (and NOT ONLY through the bliss of holding space, teaching and coaching) has lead me to create more and more women's circles, temple groups etc. And those circles has now lead me to call in more space holders closer.
I am inviting at this time all female Stockholm space holders – yoga teachers, conscious dance facilitators, therapists, coaches, etc in works since 2 years or more – into a circle called I HOLD YOU HOLDING SPACE® 👁💖👁 this fall.
We will meet 5 times Sept-Nov at YogaShakti. The circle is our womb to meet, share, hold, be held, transform, relax, blossom in vulnerability and authenticity. Wonderful teachers/coaches (our collegaues!) will guest me as co-facilitators. 🙏🏻
FOR:
Teachers, therapists, and facilitators of conscious or embodiment practices (yoga, dance, women's circles etc etc).
Note: You have at least 2 years of solid experience in teaching regularly. This is to hold the integrity of this first circle, and to build a solid foundation for more I HOLD YOU HOLDING SPACE® circles to come after this one. Please state in your request to join, your space holding experiences.
INCLUDES:
We gather 5 Tuesdays this autumn at YogaShakti. I will hold space for the space, and some Tuesdays might be co-hosted by others with me (feel free to volonteer!!).
We will have a closed Facebook group I HOLD YOU HOLDING SPACE® to share and keep the circle active and warm, between our IRL gatherings as well as after. This group will only be open for this first group, and in the future it will be joined with space holders who have completed the 5 meetings circle. So the I HOLD YOU HOLDING SPACE® community will continue to generously grow and expand, founded on the same basis.
👁💖👁
Gathering 1: Inquiry: Holding Space, Embodied Experience Of // Full Moon Tuesday 5 Sept 14.00-16.30 (ev 13.30-16.00)
👁💖👁
Gathering 2: Trusting The Pause // New Moon Tuesday 19 Sept 14.00-16.30 (ev 13.30-16.00)
👁💖👁
Gathering 3: Being True To Our Highest Vibration (and why!!) // Tuesday 3 Oct 14.00-16.30 (ev 13.30-16.00)
👁💖👁
Gathering 4: Enhancing Our Space Holding Genius // Tuesday 17 Oct 14.00-16.30 (ev 13.30-16.00)
👁💖👁
Gathering 5: Identifying And Deepening Our Soul Mission // Tuesday 7 Nov 14.00-16.30 (ev 13.30-16.00)
INNEHÅLL:
– Meeting each other in silence
– Epicness of transparent sharing
– Re-charging, exploring being held holding space
– Deepening our Space Holding Genius
– Movement (a touch of SoulDance, shaking, yoga)
– Cuddling (for those who want to – a section for those who don't wish to cuddle physically will be there too, and you are SO welcome to be with yourself and in that way be part of the nourishment in the room)
– Bonding and community building
– and more (the sky is the limit, can you FEEL IT? We are it!)
PRIS:
5 ggr = 1700 kr ink moms (endast hela cirkeln kan bokas) kvitto för "yogacirkel" kommer vid