A 40 hour training that gives you embodied understanding how to create and lead workshops, classes, and 1:1 sessions for HSP highly sensitive and those recovering from stress burnout. It's also a self leadership training on how to self-regulate and manage your own vibration and energy.

Earlybird price until April 15th.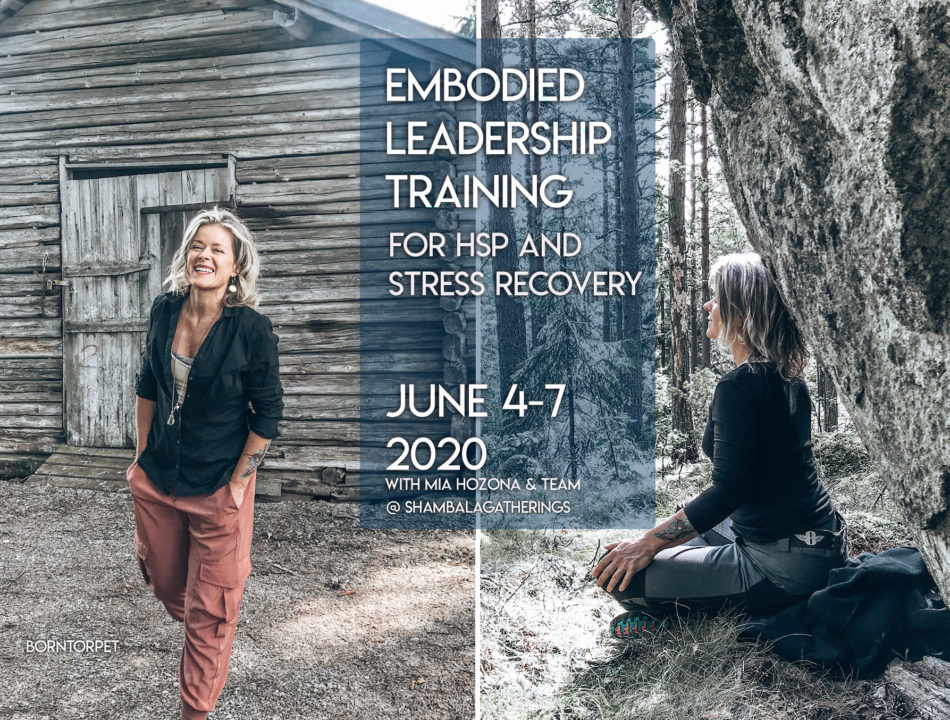 Expect to leave this hands-on, practical energy training with new knowledge of embodiment, quantum science and yogic wisdom. We invite you to four unique days with Mia Hozona on how to lead with energy awareness tailor made for HSP (highly sensitive persons) and those recovering from stress burnout, and how to self-regulate and master your own frequency of energy.

This 40 hour training is suitable for yoga teachers and aspiring yoga teachers, therapists, movement teachers, body workers, art teachers, parents, consciousness students, and anyone deeply interested in self-leadership and energy management.



HIGHLIGHTS
Welcome to four transformative yet soft days, filled with tactile and embodied learning. Your brain will be nourished with presence practice in alignment with your heart and body. This training is taught by Mia Hozona, assisted by Heidi Lindman on yoga and nourishing sound healing sessions.

Your fee includes full board, a minimum of four sessions of delicious yin and soft movement yoga with live sound healing, a gong bath/sound journey session, four foundational quantum field meditations for your learning process, and the lecture content as listed below.
In addition, you will also receive two follow-up group coaching sessions on Zoom afterwards. The four meditations will be send to you a few weeks before the training.




TESTIMONIALS
💖"Truly deeply Life Changing."
– Emmel Ellingsén, yoga teacher, Nynäshamn
💖"Thankyouthankyouthankyou! These days. SO so precious, so healing. I am bursting with gratefulness."
– Camilla S. Hansen, yoga teacher, Oslo
💖"Tack! Tack för att du lett oss in i en ny dimension av livet. Det är magiskt och måste upplevas!"
– Christina Lundström, yogalärare, Ludvika
💖"Tack Mia! Så mycket kunskap du har delat med dig av. Men framför allt stärkt vår egen förmåga. Vi har ju allt inom oss. What a bliss ♥ Jag är hållen, jag är trygg."
– Emmelie Eliasson, yogalärare, Bollebygd
💖"Denna kurs fick mig att förstå att det fanns en himmel över den himmel jag tidigare vetat om. Och gav mig en glimt av min egen helighet. Tack. ♥"
– anonym
💖"Jag har fått utforska mig själv och min energi. Mia har guidat oss genom sina magiska meditationer som har gett mig en start upplevelse av att jag har allt ljus och kärlek inom mig. Så helande. Så tacksam."
– Charlotte Nästén, yoga- & meditationslärare Skellefteå
💖"Jag är så glad och tacksam för de här dagarna. MAGI! Kursen, stället, allting runtomkring i pauserna, och "bara vara"-tiden ar varit extremt berikande för mig och har gjort att jag har kunnat ta till mig kunskapen på ett så bra sätt. Jag tar med mig väldigt mycket men någon som kommer att stanna kvar i mig lite extra är att jag har ett eget val vad jag lägger mitt fokus på: jag kan höja min energi helt klart!"
– Lovisa Skoog
💖"Jag har fått så mycket att lägga till i min kunskapsbank. Det känns så potent och så meningsfullt och jag längtar efter att få dela med mig av denna skattkista. Alla verktyg som är så verkningsfulla och självklara både i yoga och nu i forskning, och som vi redan har med oss i vår kropp men glömt bort. Att aktivera tillbaka oss själva som multi-dimensionella, medvetande energivarelser!"
– Meral Sen, yogalärare Västerås
💖"Tack Mia och alla andra fina människor jag fått möjlighet att möta under de här dagarna. Så värdefullt har det varit för mig att få träffa andra högsensitiva och dela sina erfarenheter.
Jag tar med mig massor med kunskap och verktyg att använda själv och att dela vidare i framtiden. Du är en fantastisk lärare Mia, med all din vishet och erfarenhet som du delar på ett härligt sätt. Så tacksam för de här dagarna!"
– Anci Hedbo, yogalärare Örebro
💖"Jag ska ta med mig det jag lärt mig och dela det vidare till andra människor som behöver hjälp att läka. Fortsätt med det du gör Mia, du hjälper så många människor att få det bättre och leva det liv de önskar att leva. De har allt inom sig redan, men med din hjälp och visdom får de börja använda det. Tack!"
– Maria Carlsson, yogalärare Oslo



Testimonials from HSP intro weekends:
💖 "Life is a masterful teacher. One thing that I have discovered is the wonders of high perceptivity. It took up until a couple of years ago until I found the vocabulary to talk about it. To understand myself as someone who senses, hears and sees the unfelt, unseen and unspoken. It is a confusing, bumpy and equally beautiful journey. Downright messy at times.

My deepest gratitude for sisters, pathfinders and way showers like Mia Hozona. I attended her yoga course for HSP and burn-out in 2018 which infused me in soft loving acceptance of who I am and a conviction to never again doubt the need and value of the gift of high sensitivity.

In October last year the the intro weekend  with Mia gave me the final push to embodying what life had been leading me towards, becoming a mentor for others on a similar path."

– Fia, @fiayoga

💖 "Den här helgen alltså, jag vet inte hur jag ska kunna beskriva den eftersom den innehöll så otroligt mycket. Denna magiska retreat/workshop skapades och leddes av fantastiska Mia Hozona som gjort en resa från utmattad HSP till att hittat sin metod för att kunna stå i sin högkänslighet i full kraft och njuta av alla styrkor denna gåva kommer med.
Vi fick lära oss supermycket. ✨Bland annat om att kunna ladda våra batterier på riktigt: från roten i stället för att anpassa och undvika vissa miljöer som många av oss högkänsliga har lärt oss att göra för att orka med. Att lära sig att göra detta från roten är någon av det viktigaste man kan lära sig. Vi lärde oss även om hur vi alla är kreatörer som kan skapa vår egen framtid.
Detta är det den mest fantastiska och livsförändrande retreat jag varit på och den ger SÅ otroligt mycket. Både kunskap som är guld men också massvis med praktiska tips som du direkt kan ta med dig i vardagen. Ska du gå en retreat för högkänsliga ska du definitivt på på denna. Om inte annat bara för att få träffa magiska Mia med sin otroliga energi som får alla att känna sig hemma."
– Helena S, Enköping
💖 "Du bekräftade mig och att det finns mer än det som ryms i ramarna vi lär oss att förhålla oss till. TACK. Det skänker mig lugn. Ett lugn att jag är på rätt väg och leds dit jag ska."
– Katarina, Kiruna
💖 "Tack fantastiska Mia för dessa två dagar! Vilken magi det var⭐️ Så tacksam att jag följde mitt hjärta och bokade mig på denna fantastiska helg. Så mycket lärdom jag har fått tagit del av. Nu längtar jag så efter att få börja min nya resa. Tack för att du guidat mig i rätt riktning!"
– Anette T, Täby
💖 "Ni vet den där känslan när man bara vill stoppa tiden för en stund och kunna njuta lite extra av ögonblicket?!? Precis så var helgen. SOM jag har fyllt på, laddat och landat! Tusen tack Mia Hozona för din fantastiska energi, kunskap, inspiriation, smittande glädje och att du förmedlar på det sätt som du gör. Det går rakt in i hjärtat."
– Mia K, Karlstad
💖 "TACK fina Mia för en fantastisk workshop/yoga/retreat-helg! ✨ Det har nu gått ett par dagar men jag känner fortfarande hur energin pirrar i mina celler. :) Såå underbart att få vara med i bubblan där det varvades mjuk yoga, intressanta föreläsningar med skön meditation. Att få befinna sig i Nuet under så lång tid var både läkande och energigivande. Stort tack igen. ♥ "
– Mia D, Göteborg
---
---
---
---
---
---
---
---